Team FastEddy Pro Series HD Baja Stand: Review
Review by: OneHum.
As an RC enthusiast, I am constantly on the lookout for new tools that will help make the hobby more enjoyable. Not having quick access to the right tool or part can turn an enjoyable wrenching experience into one of frustration.
As my collections of cars and tools grow, I have found enjoyment in the pursuit of tools that simply make things easier. I have also found great appreciation for the thoughtful craftsmanship and build quality that go into many of the tools and parts we buy.
One tool that has been talked about frequently here on hpibajaforum.com is the Baja stand. Seemingly simple, quality stands have been hard to come by, forcing many in the community to fabricate stands from PVC, metal or wood. Other alternatives include foot stools, a Home Depot Carpentry stand and, on the extreme end, a very expensive custom swivel arm with custom tray. Quality stands have been in such high demand, in fact, that just about every vendor has been out of stock for months.
There have been two quality stands that are highly regarded in the Baja community. These are the KRD Baja Stand, and the KMAS stand. Both stands are excellent choices, but have not always been available.
I'd like to be the first to introduce to you a new stand that I have recently added to my workbench. That stand is the Team FastEddy Pro Series HD Baja Stand. This stand has replaced my stable of shoe boxes, Amazon.com boxes and a 2×4. It has also replaced my frustration with pure enjoyment.
This stand is excellent in just about every way. It is made of high quality steel with an attractive powder coat that is sure to keep things looking good for years to come.
The specifications for the Team FastEddy Pro Series HD Baja Stand are:
Weight: 14 lbs
Base LxW: 22

5/8

x 16
Tray LxW: 17

7/16

x 12

1/4

Carriage LxW: 16 x 4

3/16

Carriage Side Height: 1.5″
Carriage Height : 7 1/4 – Adjustable to 8″ stock (Upgradeable)
The first thing I noticed about the stand is its strength. When I first had the opportunity to see the prototype, FastEddy stood on the stand and bounced up and down. He then demonstrated how another popular stand would warp with a firm press of the hand. This is something that could cause a stand to become deformed over time. This is something that is not going to happen to the Team FastEddy Pro Series HD Baja Stand.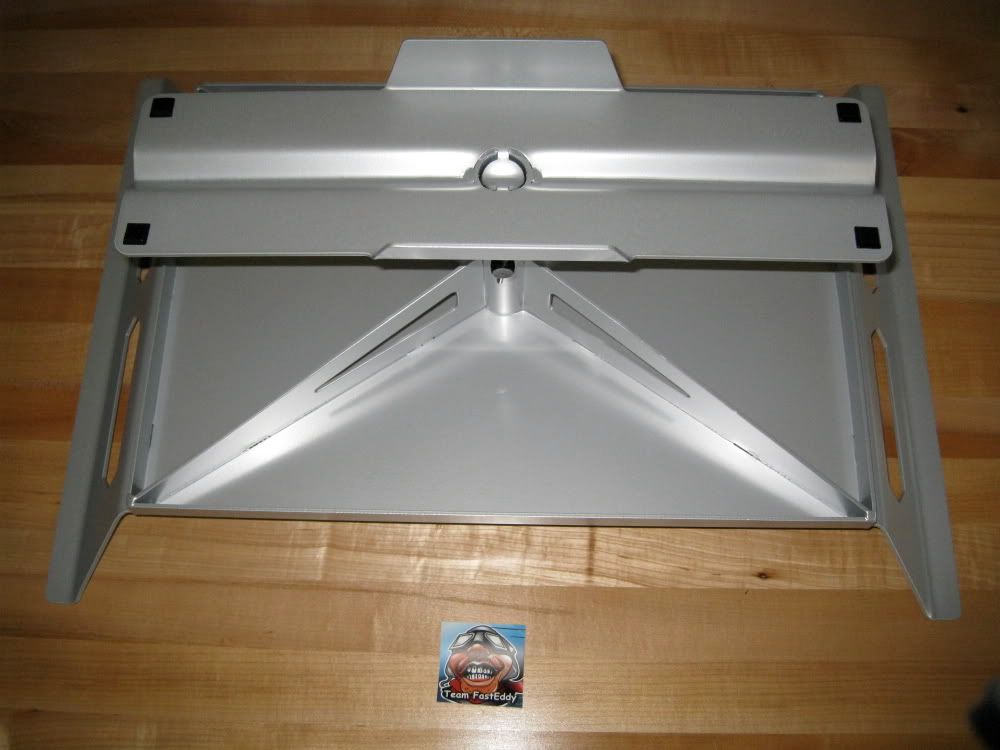 As expected of any quality stand, the Team FastEddy Baja Stand swivels. Team FastEddy chose to use wing nuts to lock the stand in place, or allow it to swivel freely.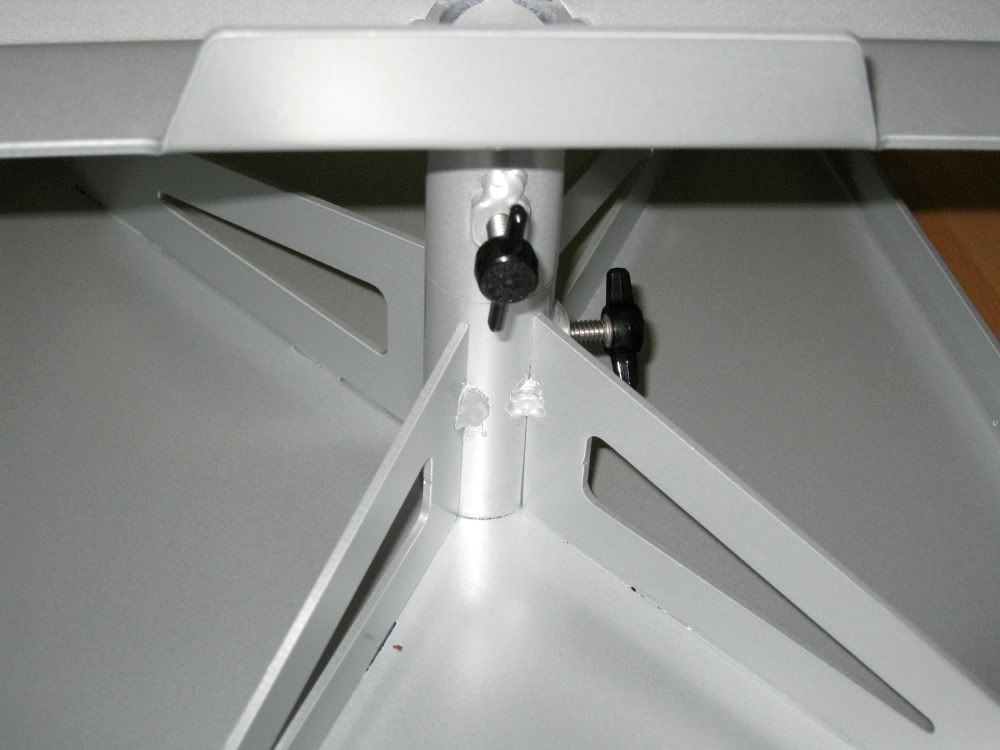 One of the many things I really like about this stand is the parts tray. It is divided into four quadrants, allowing you to organize your parts relative to their place on the vehicle.
The color of the stand was also carefully considered. Unlikely the more popular color of black found on other stands, Team FastEddy opted to use a lighter color. This allows for a high degree of contrast in the parts tray, allowing you to easily find small items.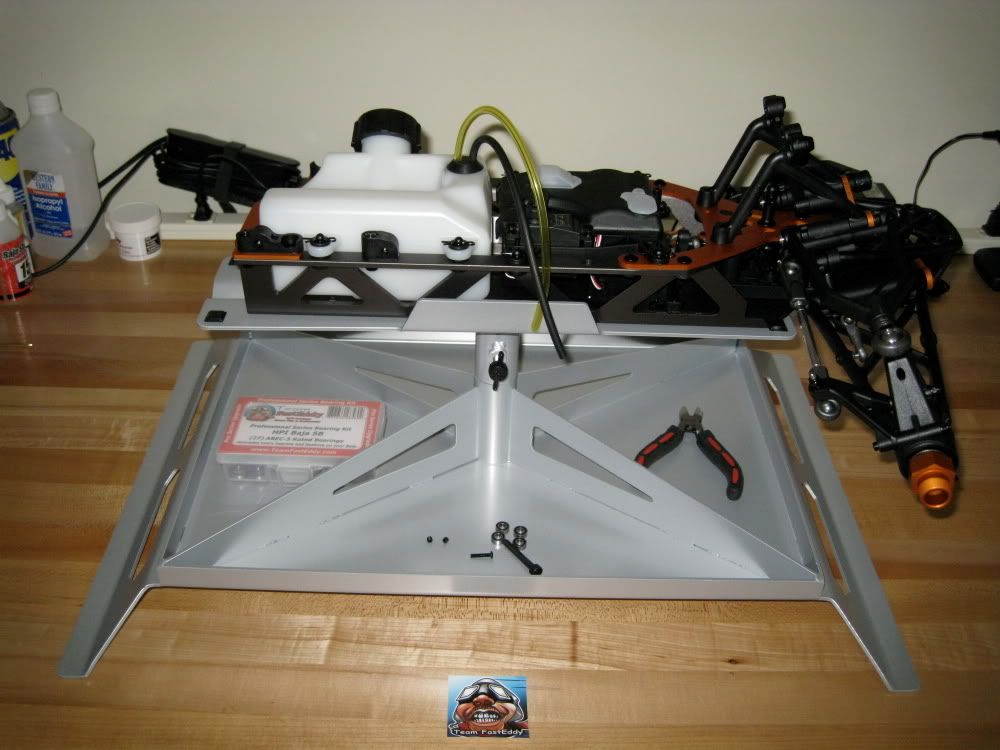 As expected, the Team FastEddy Pro Series HD Baja Stand does a great job holding onto Bajas. As I continue the build on a Baja 5B SS, and move toward completion on a complete rebuild and upgrade of a Baja 5T, I expect the stand to show it's utility and it's strength.
What I was not expecting is how well it holds other vehicles, such as the 1:8 scale HPI Savage X.
If you're looking for more height out of your Team FastEddy Pro Series HD Baja Stand, a simple upgrade is all it takes. The carriage is supported by a 1″ steel tube. You will easily find 1″ tubing in any length at your local hardware store. This addition, as well as the stand's effortless disassembly, is sure to come in handy at the track.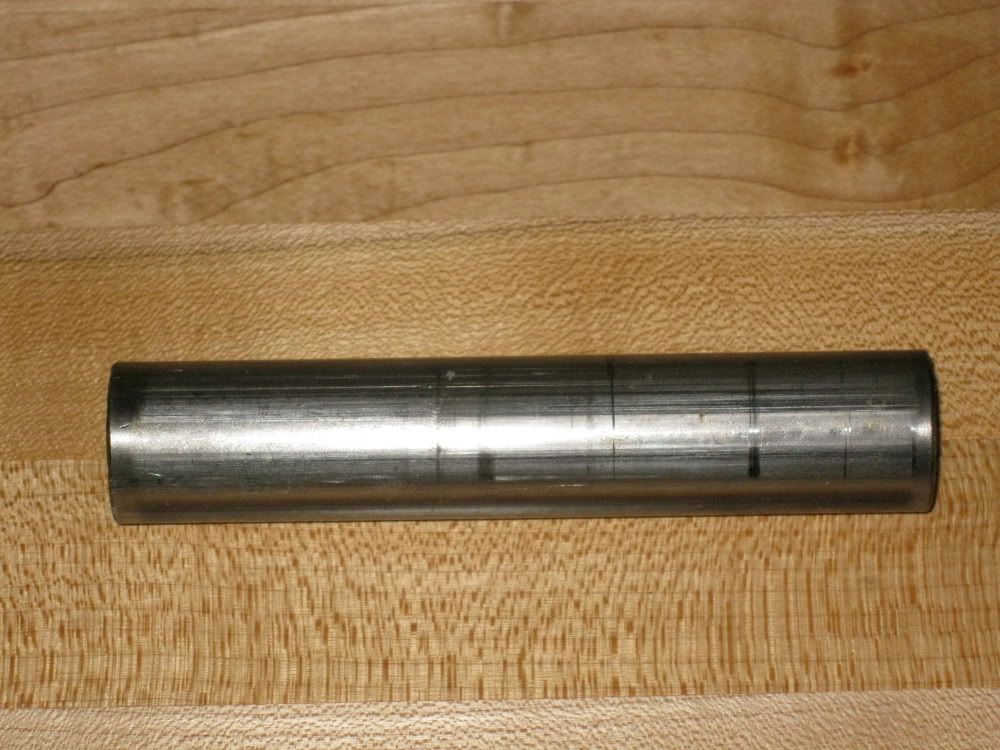 Overall, this is a very strong and functional stand with a solid base that is sure to see you through years of wrenching.
Not only have I managed to fill a significant void in my stable of tools, but I have done it with something that has exceeded all of my expectations. If you're in the market for a new stand for your Baja, you won't be disappointed with the Team FastEddy Pro Series HD Baja Stand.
I would like to congratulate Team FastEddy on another great product and a fine piece of craftsmanship.
The Team FastEddy Pro Series HD Baja Stand is currently listed at Dave's Motors and is expected to be available on February 27 for $165.
Please check this and other Baja retailers for availability.