RAMS Club Baja Auto Cross (Nor-Cal) Track info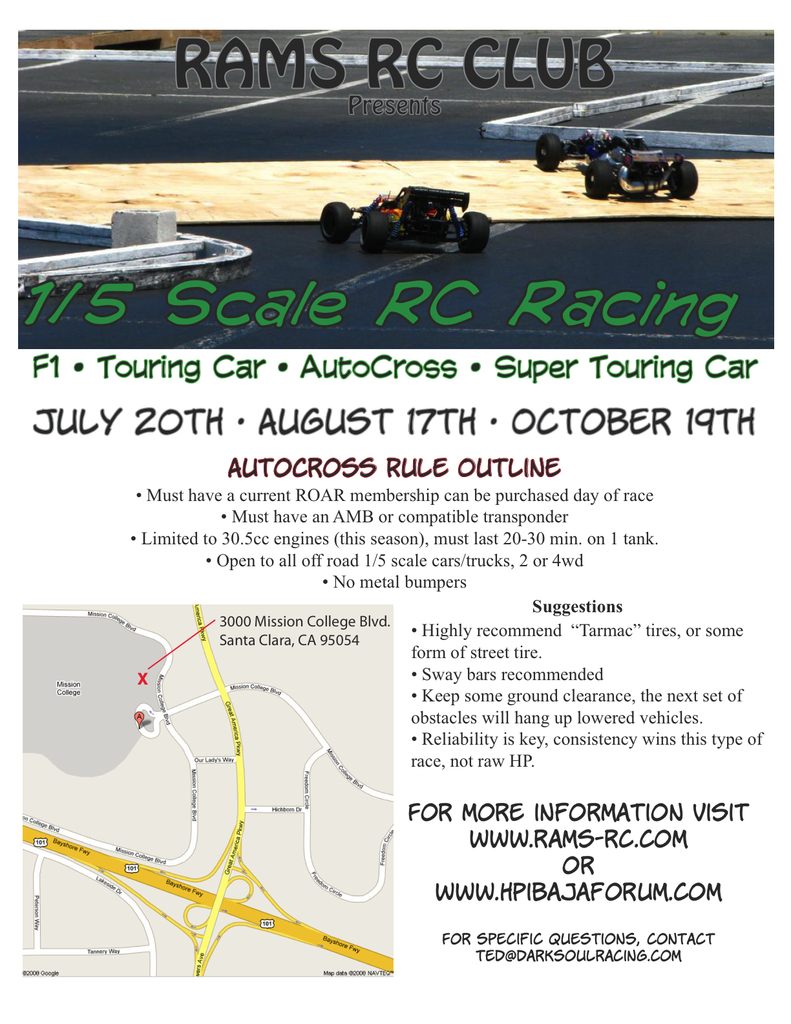 2009 Schedule:
February 15th:
March 15th
April 19th
May 17th
June 7th
July 19th
August 16th
September 2Oth
October l8th
RAMS 5th scale will add Autocross as a points event. This will be an open class so everyone can race what they have (within reason). We will have some restrictions on noise (mufflers and we do have a sound meter) and safety items (bumpers for example). Since this is a member driven class, changes can be made as needed. Ted and Frank will be the main people for this class.
We normally race on the 3rd Sunday. Feb is a warm up race (no points) and March to Oct are points races (8 with 2 throw-outs).
The only exception is June where we move to the 1st Sunday due to Father's Day. If we get rained out, we will try to reschedule.
Practice shall be: 10 minutes Autocross, 10 minutes STC/F1, 20 minutes Autocross, and 20 minutes STC/F1
Qualifying is two rounds of 10 minute racing. We will try to keep the number of cars to less than 7 for the qualifying.
Mains will be 20 minutes in the beginning, we will let the group decide if a 30 minute main is better as the season progresses. Normally a 10 car field with one bump-up from the earlier race.
Continue to use MMR Track Grip
RAMS is a non-profit corporation that strives to break even each year. We have to pay for: the college each time we set foot on the parking lot, trailer parking, repair and painting the boards, stuff we spray on the ground… So what money we do collect goes to the race program. In addition we count on the membership contributing their time and energy to make the racing fun, competitive, and exciting for everyone.
5th scale race fees for 2009
RAMS membership is $30 (for the 2009 race season)
ROAR membership is $30 (1 year for joining)
Member Race fee from $20 to $25
Non-member race fee from $25 to $30
NATC from $30 to $35
No second class fee (encourage drivers to drive more)
Here are a couple clips from the autocross races so you guy's who have not made it out can see what it is all about